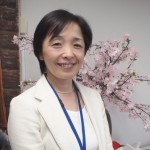 This year we have a new full-time faculty member, Ms. Miki Tsukamoto. We're very happy to have her join us, and are looking forward to working with her. Her office is on the 5th floor of Building 8.
We are very sad that Lina Maksymuk is leaving us. She'll be moving to England with her family this month. Ken Gibson, who many of you know from Hanami events and English Lectures, will be replacing her.
This year will be Prof. Hashimoto's final year as he will retire next March. We will be sorry to lose him, as he has a long and distinguished history with our school.