English is more than just a language… it is also part of the culture of many countries around the world. Therefore, in addition to our classes, we offer students a chance to enjoy cultural events during the year. Here are some of our more popular events.
Hanami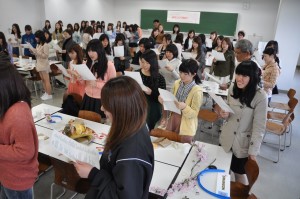 To start the new school year, we hold a Hanami Event as a way for our students and staff to get to know our new 1st-year students. The students work in groups, and visit each teacher to do a short activity to help them get to know each other. While they are doing that, they feast on trays of snacks. We end with a song taught by Professor Woolbright.
Halloween Event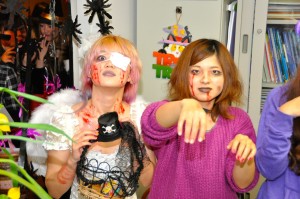 In late October, we hold a Halloween Event for our students. Most students wear a costume or makeup, and then they visit the teachers' offices for "Trick or Treat." The teachers get the students to do some small language activity or game before giving them some candy or cookies. After that, all the students meet together to watch a scary Halloween movie while eating their snacks.
Christmas Intensive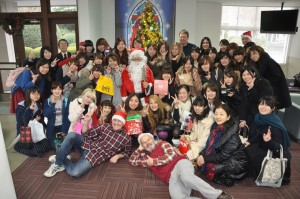 At the beginning of December, all our 1st-year students come to school for one Saturday for our Christmas Intensive. The students are divided up into six groups, and then they spend the day doing different Christmas activities, such as songs, card-making, games, or language activities. We all share a lunch together, and at the end of the day, Santa arrives with gifts for all the students. It is a fun day that everyone enjoys, and a nice start to the Christmas season.