News
2022 English Haiku Contest
2022年英語俳句コンテスト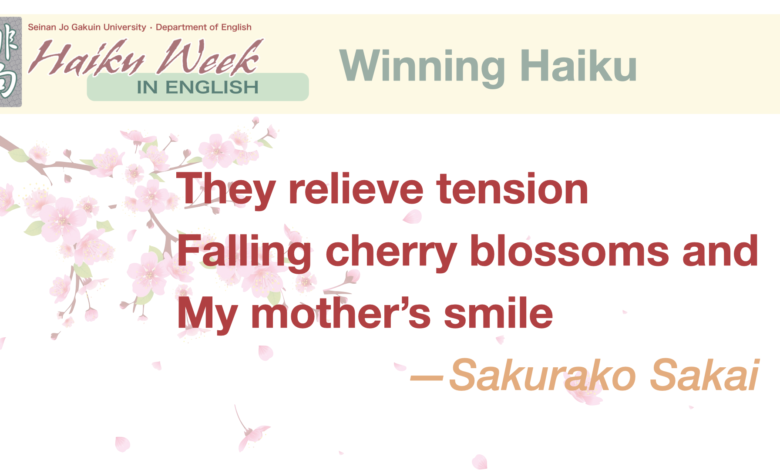 In late May, 2022 we held an English Haiku Week on campus, starting with a lecture by Professor David McMurray from the International University of Kagoshima. During the week that followed, students wrote haiku in their classes and at home, and submitted them to the contest. Professor McMurray kindly judge the entries and selected 10 highly commended, a runner up, and a winning haiku. Here are the finalists.
2022年5月下旬、鹿児島国際大学のデビッド・マクマレー教授の講演を皮切りに、学内で「英語俳句ウィーク」を開催しました。その後の1週間、学生たちは授業や家庭で俳句を作り、コンテストに応募しました。マクマレー先生のご厚意により審査が行われ、優秀賞10句、準優秀賞1句、入賞1句が選ばれました。以下は、最終選考の結果です。
The winning haiku
They relieve tension
Falling cherry blossoms and
My mother's smile
Sakurako Sakai (Y1)
The runner up haiku
Trickling down
Dripping ice cream
Sounds of summer
Moe Makimoto (Y3)
The 10 "highly commended" haiku
Hot wind blows  
Softly across me 
Bye straw hat
Yuu Akase (Y1)
It is in the night 
I hear the sound of drums now
Summer festival
Ayako Minami (Y2)
Baked sweet potato
I love your great autumn taste
Please stay all season
Shiori Sakuma (Y2)
summer is coming
sunflowers are looking up
giving me energy
Hibiki Inoue (Y4)
A night in June–
from everywhere
sound of mosquitoes
Maho Yoshitake (Y3)
The ashen sky hides
the golden moon over dark clouds
I miss the twinkling
Megumi Okuda (Y3)
My empty locker
Expected some chocolate 
Sad Valentine's Day
Yuzu Tashiro (Y3)
Warm summer evenings
Sunflowers turning away
Heavy dirty soul
Natalia Sen
Cicadas are chirping
On a summer night,
Increasing the heat
Yuu Kajiwara (Y3)
Though it sounds noisy
For cicadas
It is living proof
Yuzu Tashiro (Y3)
Message from the final judge, David McMurray
Congratulations go to all the 132 participants in the Haiku in English Week at Seinan Jo Gakuin. A few additional students at the International University of Kagoshima and Chuo University in Tokyo were attracted to the contest, making the week special, indeed.
Student life can be stressful, therefore a heart-warming haiku that blends the transience of Japan's national flower and a love for family was chosen as the deserving winner of this year's contest. Note the classic 5-7-5 syllable and short-long-short three-line structure of the poem. The addition of "and" represented a well-placed pivot or kireji at the end of the second line. 
A haiku about everyone's favorite summer treat was chosen as the runner up because of its intriguing focus on the melting sound it makes in the heat of summer day.
Special commendations go to ten more entries, in particular please note the two haiku about sunflowers. One was uplifting in the usual sense of summer growth in Japan. The other sunflower poem cast an unusual sad shadow. This year, the yellow sunflower and clear blue skies have become synonymous with the Ukraine flag, yet its people and agricultural products are trapped in the throes of wartime.