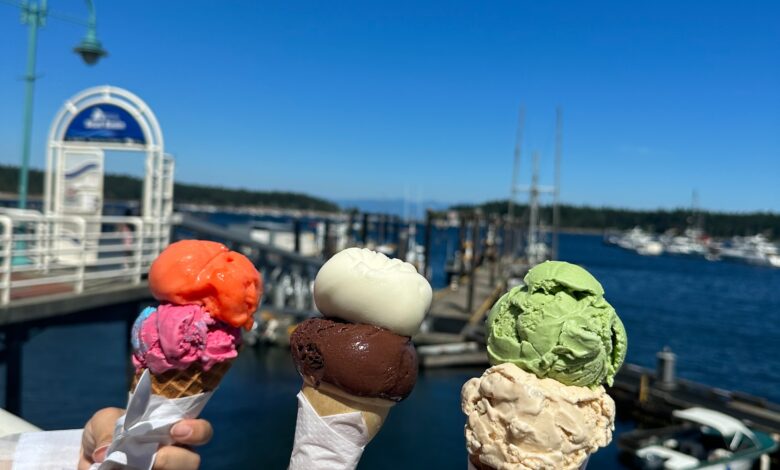 Ami, one of our first-year students currently studying at Vancouver Island University in Canada, tells us about her experiences.
将来の夢の可能性をもっと広げたい。私は将来英語を活用した職業に就き世界の人と沢山関わりたいと幼い頃から考えています。なので三、四年生になると就活等で忙しくなるだろうからと今回一年生のうちに夢だった海外留学をすることを決意しました。
I want to expand the possibilities of my future dreams. Since I was a child, I have always wanted to work in an English-speaking profession and interact with people from all over the world. Therefore, I decided to study abroad, which was my dream, while I was still a freshman, because I would be busy with job hunting in my third or fourth year.
私自身、海外へ行くこと自体初めてだったのでとても緊張していました。また、自分の英語力にもはっきり言って全く自信がありませんでした。しかし、私が1番留学中に心掛けていたのは積極的になって恥ずかしいという気持ちを捨てることです。そうする事で、緊張などせずに現地の人達と会話をしたりホストファミリーとも仲良く打ち解けることが出来ました。勿論、文法や単語、表現の仕方、聞き取りなど間違えてしまって指摘されることもありました。ですが自然と言われる度に身についていき力に変わりました。これは留学ならではの学びだとおもいます。また、その会話の中で学校では習わないような海外独特のスラングなども覚えることが出来て勉強になりました。さらに私が留学していたカナダはホームステイの家庭によって民族ルーツが違っていたので昼食時に友達とご飯を食べる時食べ物を見せ合って文化の違いを味わうのがとても楽しかったです。生活面でも留学先のカナダと日本の違いに気づけることが出来たので良い社会経験になったなと思います。日本で学ぶ英語とは断然違います。日常を通して英語を学ぶので英語力が伸びると思います。なので私は今回の海外留学の経験を通してオススメしたいです。
It was the first time for me to go abroad, so I was very nervous. I was also not at all confident in my English ability. However, the most important thing I am trying to do during my study abroad is to be proactive and let go of my feelings of embarrassment. By doing so, I am able to converse with local people and get along well with my host family without any nervousness. Of course, there are times when I made mistakes in grammar, vocabulary, expressions, and listening comprehension, and people pointed them out to me. However, each time I was told, I naturally learned from it and it turned out to be my strength. I think this is something you can only learn from studying abroad. Also, I was able to learn unique foreign slang that I did not learn at school through these conversations. In Canada, where I am studying abroad, each homestay family had different ethnic roots, so I enjoyed sharing food with my friends at lunch time and tasting the cultural differences. I think it was a good social experience because I could notice the difference between Canada and Japan in terms of daily life. It is definitely different from the English you learn in Japan. I think I can improve my English skills because I learn English through my daily life. Therefore, I would like to recommend this study abroad experience to everyone.