We have three teaching assistants located on the 2nd floor of Building 8. Here are their introductions.
Sachiyo Oda
西南女学院短期大学英語科を卒業後、ご縁があり母校に奉職しています。
現在西南女学院大学人文学部に所属しています。コンピュータやオーディオ
機器を使った「情報科学演習」「情報リテラシー」「英語通訳演習」などの授業の支援をしています。
Since Sachiyo Oda graduated from the English Department at Seinan Jo Gakuin Junior College, she has been working as a teaching assistant in the Faculty of Humanities at Seinan Jo Gakuin University. She is supporting a number of classes using computers and multimedia in the classroom.
Mitsuko Kusumoto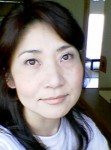 人文学部教育支援職員室におります楠元美津子です。
小学生の男の子のお母さんです。
子育て・仕事・家事をこなすのは大変ですが、毎日頑張っています。
よろしくお願いします。
I'm Mitsuko Kusumoto of the Humanities Dept. I'm the mother of a boy who is a primary schoolchild. It is hard to handle child care, work, and housework, but I do my best every day!
Maki Higuchi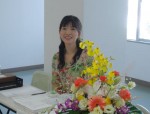 Maki Higuchi is a member of the teaching staff in the Faculty of Humanities(人文学部教育支援スタッフ). Two other staff and I support the students of the Departments of English and Tourism. Our office is always open to any students needing information.
I'm interested in a lifelong learning and adult education. I'm assisting the director and staff of a community center, and volunteer leaders in a society for the study of lifelong learning in Kitakyushu. I'd like to live close to nature in the future because I love nature. My hobby is dancing the hula. I sometimes dance the hula to get rid of my stress.